Actions Speak!
Behavior-based Interviewing
A fresh and vibrant new approach to legal and effective hiring.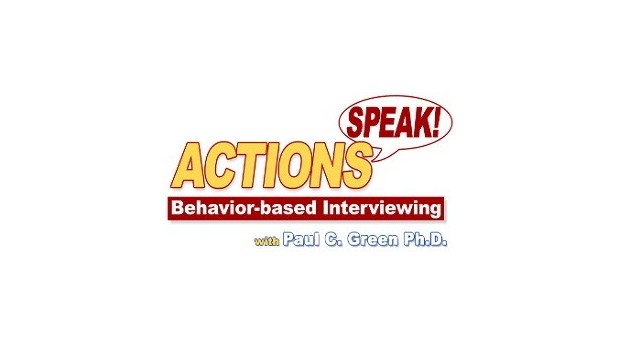 Availability date:
Author, Dr. Paul C. Green and Producer/Director, Art Bauer, have re-teamed to produce a fresh and entertaining approach to behavior based interviewing.
"In the science of behavior-based interviewing, a lot has happened in the last thirty years. We made, ACTIONS Speak!, to bring those new insights to the employers who need them." - Dr. Paul C. Green
Based on the time-tested truth, "Past actions predict future performance," this new high-end production combines the elements of memorable storytelling, practical content and realistic acting to weave together a highly effective training course for a new generation of interviewers.
The story takes place in broadcast television studio during rehearsals for a weekly business news program. The host of the program has invited a special guest to help her review a new business book on employee interviewing techniques. As they begin to critique real world examples of interviews, the invited guest is less than helpful and decides to share his own strong opinions on the subject.
Key Learning Points
How to use job information to compose effective and defensible interview questions
How to gain behavioral predictors that can forecast job performance
How to use non-verbal indicators (feelings) to suggest follow-up probes
How and when to ask for reverse information
How to respect and manage silence
How to avoid the "like-me" syndrome
How to get specifics on personal qualities like character, honesty and integrity
Support Materials
Sign in
to view the support materials provided with this program.