The Five Dysfunctions of a Team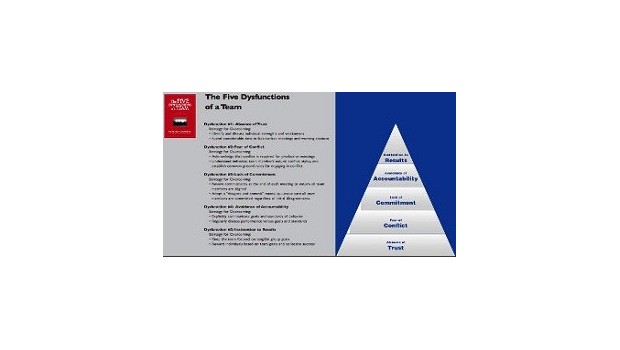 Availability date:
Based on the best-selling book by Patrick Lencioni, the video presentation takes viewers through each of the five dysfunctions and the theories behind them. Lencioni offers a unique perspective on his model for teamwork. Using colorful examples from his own career and consulting experience, he explains the obstacles that prevent teamwork from taking hold in so many organizations. Then, he gives the team a roadmap for overcoming dysfunctionality and the tools to become a more powerful and successful team.

This video program is ideal for teams that want to learn how to become more cohesive, as well as for individual leaders who are searching for better ways to eliminate politics in their organizations and improve team effectiveness.

By following The Five Dysfunctions of a Team model, the team works through the fundamental levels of dysfunction, and by overcoming each, the group becomes a true team where their power is in their team-relationship and productivity.

Part 1 covers the Five Dysfunctions in depth:
Absence of Trust - The fear of being vulnerable prevents the building of trust within the team.
Fear of Conflict - The desire to preserve artificial harmony stifles productive conflict.
Lack of Commitment - The lack of clarity or buy-in prevents team members from making decisions
they will stick to.
Avoidance of Accountability - The need to avoid discomfort prevents team members from holding
one another accountable for behavior and performance.
Inattention to Results - The pursuit of individual goals and personal status erodes the focus on
collective success.
In Part 2, Lencioni shows the roadmap for overcoming the five dysfunctions with practical methods for Building Trust, Mastering Conflict, Achieving Commitment, Embracing Accountability and Focusing on Results.

The video and supplemental guide are designed for teams to work through together, over multiple weeks, to reinforce the concepts. The sessions will help the team define itself, where they are, what is lacking, and the direction they must take in order to evolve. Exercises and follow-throughs outline next steps for the team.
Key Learning Points
Helps teams develop interpersonal strengths in their working relationships
Provides team with tools for overcoming loss of time and productivity
Heightens organizational performance by improving team results